Please tolerate the pop up
ad and side bar ad, they are
easily closed and they
allow me to have this site
hosted at no expense.
A pop up stopper
is downloadable
here. for free
---




KEEPING AN EYE ON BIG BROTHER
THE WALRUS WIRE
ALTERNATIVE NEWS
Because the unaware are unaware, that they are unaware.
This is a mirrored report:
Bush 'told' of planned strike before 9/11
aljazeera.net
Saturday 10 April 2004, 10:06 Makka Time, 7:06 GMT
President George Bush was told more than a month before the September 11 attacks that supporters of Usama bin Ladin planned a strike within the United States, The New York Times has reported.

Citing an unnamed government official, the newspaper on Saturday said the warning came in a secret briefing that Bush received at his ranch in Crawford, Texas, on 6 August 2001.
A report by a joint Congressional committee last year alluded to a "closely held intelligence report" that month about the threat of an attack by al-Qaida, the paper said.
The disclosure appears to contradict the White House's repeated assertions that the briefing the president received about al-Qaida's threat was "historical" in nature and that the White House had little reason to suspect an al-Qaida attack within the US, The Times said.
The Congressional report said al-Qaida operatives had appeared to have a support structure in the US and intelligence officials had "uncorroborated information" that Bin Ladin "wanted to hijack airplanes" to gain the release of imprisoned "extremists".

It also said intelligence officials received information in May 2001, three months earlier, that indicated "a group of Bin Ladin supporters was planning attacks in the United States with explosives".
The paper said the White House had also offered evidence that the Federal Bureau of Investigation (FBI) had received instructions more than two months before the September 11 attacks to increase its scrutiny of suspects inside the US.
Memorandum
The disclosure appeared to signal an effort by the White House to distance itself from the FBI in the debate over whether the Bush administration did enough in the summer of 2001 to deter a possible attack in the US in the face of increased warnings, The Times said.
A classified memorandum sent around 4 July 2001, to Condoleezza Rice, the president's national security adviser, from the counterterrorism group run by Richard Clarke, described a series of steps it said the White House had taken to put the nation on heightened terrorist alert, according to the report.
Among the steps, the memorandum said, "all 56 FBI field offices were also tasked in late June to go to increased surveillance and contact with informants related to known or suspected terrorists in the United States."
Parts of the White House memorandum were provided to The New York Times on Friday by a White House official seeking to showcase the administration's work against terrorism, the paper said.

---
END REPORT
---
original located@
http://english.aljazeera.net/NR/exeres/8C92DFD9-B22D-4A74-B7BA-9880DE027627.htm
---
use your
BACK BUTTON
to RETURN


In recognition of creativity,
integrity and excellence on the Web.


"You'll find news links on this site you didn't
even know existed.
This guy has obviously put a hell of
a lot of time into building this leviathan.
Great music too!"
P. J. Watson
Propaganda Matrix
---
FAIR USE NOTICE:
This site contains copyrighted material the use of which has not always been specifically authorized by the
copyright owner. We are making such material available in our efforts to advance understanding of environmental, political, human
rights, economic, democracy, scientific, and social justice issues, etc. We believe this constitutes a 'fair use' of any such copyrighted
material as provided for in section 107 of the US Copyright Law. In accordance with Title 17 U.S.C. Section 107, the material on
this site is distributed without profit to those who have expressed a prior interest in receiving the included information for research
and educational purposes. For more information go to: http://www.law.cornell.edu/uscode/17/107.shtml. If you wish to use
copyrighted material from this site for purposes of your own that go beyond 'fair use', you must obtain permission
from the copyright owner.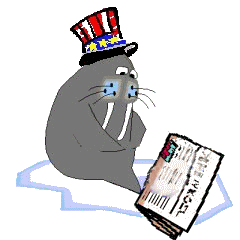 published by tusk36: Altoona, Pennsylvania, U.S.A
email
newsworldorder@hotmail.com
---
Wakeup world, millions of Evil Serial Killers , Mass Murrders and Rapist are lose on the world
post by tj
Wakeup world, millions of Evil Serial Killers , Mass Murrders and Rapist are lose on the world, they call themselves islamic muslims and pray to a ( moon god ) called allah, they scream (allahu akbar) as they cut off heads of people who will not pray to their MOON GOD allah, they live by an evil book called the (quran), it teaches hate, and lies about mankinds beginning. Muslims have and, are killing thousands of Innocent children, women, and men around the world, beware, they are hatefull, murders, rapist,and liars, God Have Mercy, As a group of people they are some, if not, the most Evil the world as ever seen. Learn of them, fear them, or pray to their GOD Allah, to most of you this is to horrible to be true, I'm so sorry to say," It is true".

---
Re(1): Wakeup world, millions of Evil Serial Killers , Mass Murrders and Rapist are lose on the world
post by tusk36
Dear tj, thank you for posting in my forum. I will never censor what anybody has to say about anything, however, You have made a very broad statement lumping all worshipers of Allah under 1 blanket. ".....killing thousands of Innocent children, women, and men around the world, beware, they are hatefull, murders, rapist,and liars," this statement quoted from your post applies to the US foreign policy and the American military machine as it has existed for the last 50 years. Granted, I do not mean to imply everyone in the military fall under this blanket, but there are some at the top that do, As well as the lower ranks. "...pray to their MOON GOD" If you have a problem with people praying to a non-christian God, do you know any freemasons, one of the many symbols of their god is the PENIS of god. Take a look at the Washington Monument. How about using skulls robbed from graves for worship? Sounds nasty huh? Ask Bush or Kerry about the rituals they have participated in using the stolen skull of Geronimo, the one GW's grandfather Prescott Bush robbed from Geronimo's grave. Keep in mind, this was years before he helped finance the NAZI war machine. Speaking of NAZIS, your post is reminiscient of their propaganda towards the Jews. But I am assuming you are a "Christian". WWJB? Who would Jesus bomb t.j.? It is very easy to be propagated into a false sense of "Patriotism" and antagonisation towards "the enemy". Hitler did it almost as easy as GW has. Quite an accomplishment for Aldolf seeing as he did not have the technology of the media to saturate the brains, minds and souls of his herd of sheep, like GW has. This isn't about Dems or Republicans anymore. The Dems and the Reps are part of the problem. It's now us or them. I'll end my post with a quote from you that we do agree on in structure...."to most of you this is to horrible to be true, I'm so sorry to say," It is true". If for just a split second you have any doubts about your herders, please click the link below. Thanks for posting, feel free to post again.
tusk36